BBC Report: Wittenoom: Tourists urged to stay away from asbestos town
Wittenoom: Tourists urged to stay away from asbestos town
It is a ghost town in Western Australia that was built on an asbestos mine.
Now authorities are concerned that curious tourists and thrill-seekers are returning to the outback town of Wittenoom, which was shut down in the 1970s.
Local officials issued a notice this week warning people against visiting Wittenoom, located 1,100km (680 miles) north of Perth.
The former mining town is officially classified as a contaminated site. Thousands of its former residents and visitors have died from asbestos exposure.
The state government has referred to Wittenoom as "the greatest occupational health and safety tragedy in Australia – comparable to the Chernobyl and Bhopal catastrophes."
Road signs warn people against visiting the town, which still retains a handful of residents.
However, a steady stream of videos and online blog posts in recent years show travelers are not heeding the safety warnings.
'A short visit won't hurt'
Earlier this month Ashley White, who is from Western Australia, ventured into the town while traveling through the rugged Pilbara region with his girlfriend.
Wittenoom is located on the way to Karijini National Park, a popular attraction known for its gorges and waterfalls.
Mr. White told the BBC that he had researched the town's asbestos dangers prior to his visit and that he had read the area's warning signs.
However, none of it stopped him from exploring the derelict buildings and going up to one of the old mine shafts.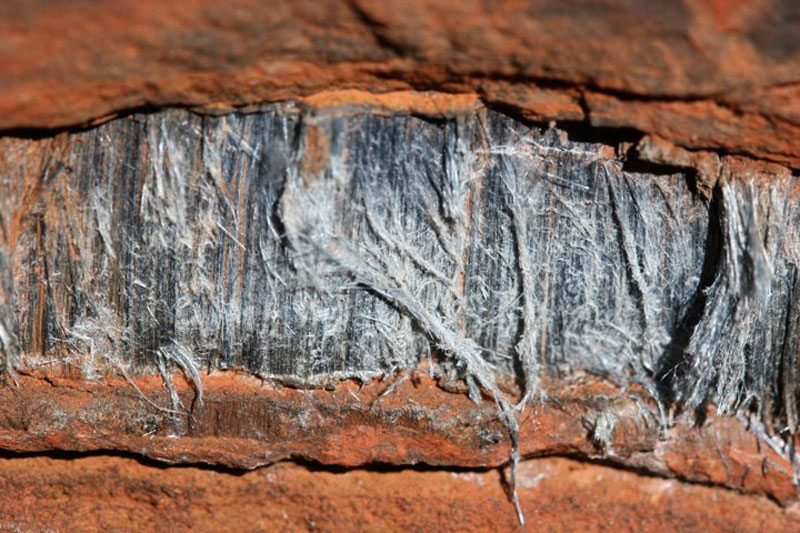 "From what I could find, it is the fibres in the air that cause the problems," he said. "There was no wind when we went so I was under the impression that a short visit won't hurt."
Authorities say that toxic asbestos fibres remain all over Wittenoom and its surroundings, including a popular gorge.
Mr. White said he liked "looking around ghost towns and abandoned places". He was "not bothered" by the safety risk, unlike his girlfriend who refused to go into the town.
Other travelers online appear to feel the same as Mr. White.
In one YouTube video, a group of men pick their way through one of the old asbestos mine shafts. They appear to be led by a local man who is familiar with the mine's workings.
The comments posted under the video are mixed. Some congratulate the men on their adventure and for achieving a "unique look into the past". Others raise warnings.
"Isn't there dangerous levels of blue asbestos in that area? You guys should be careful, that stuff can kill," one person wrote.
"I know it's a personal choice but what a price to pay," reads another comment.
'Stay safe'
The videos have triggered alarm for authorities, who say visitation is an ongoing issue.
"The history of Wittenoom raises serious questions as to the safety of those visiting the town and its surrounds, even today," Rob Paull, the chief executive of the local Shire of Ashburton told the BBC.
"We strongly recommend that people do not visit Wittenoom."
After the government shut down the mines in 1966, most residents relocated. Houses and buildings were demolished along the way.
In 2006, it lost its status as a town and was removed from official maps and road signs.
The government's website on Wittenoom says exposure to asbestos can result in fatal diseases such as mesothelioma – a rare form of cancer that affects the thin membrane that lines the chest and abdomen, asbestosis, and lung cancer.
Symptoms sometimes do not appear until decades after the initial exposure.
"STAY SAFE. DO NOT TRAVEL TO WITTENOOM," is the government's official advice.
Despite the many warnings, Mr. White believes they will continue to be ignored by travelers like himself intent on seeing the town.
"There's enough signs but I don't think people are going to read them and not go in [as planned]. Like me, they probably already realise the dangers."