What is asbestos insulation?
Asbestos insulation comes in different forms and varies in looks.
Asbestos Insulation was used throughout the 1950s and 1960s in homes and commercial properties.
Many properties from this era still contain asbestos insulation.
Asbestos insulation can contain 80% to 100% asbestos fibre.
Asbestos fibres have a cotton-like consistency, and the gaps between the fibres reduce the transfer of heat, giving it excellent thermal properties (resistant to heat)
Where might I find asbestos insulation?
Asbestos insulation is most commonly found on heating pipes and boilers and frequently found in roof spaces, wall and floors cavities. Boilers from the 1950s and 1960s would be lagged in asbestos insulation.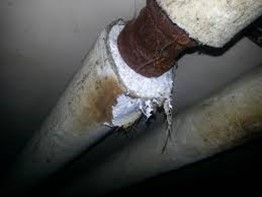 Sprayed coating, developed to spray asbestos insulation onto steel beams and ceilings for fire protection and can be found in many older factories.
Loose asbestos insulation was used for insulating lofts but can also be found where insulation would be required, such as wall and floor cavities.
Asbestos insulation is the most dangerous asbestos product. Because of this, it falls under the Health and Safety Executives Asbestos Licensing Regime and only companies with a current asbestos license issued by the HSE can remove or repair it.
Click here for more information from the HSE